Product Overview
When it comes to pampering your skin and indulging your senses, the Bath & Body Works Warm Vanilla Sugar Skin Whitening Butter Cream stands out as an exceptional choice. This luxurious body butter offers 24+ hours of moisture, leaving your skin feeling soft, smooth, and deeply nourished. In this article, we will delve into the details of this product, including its ingredients, usage instructions, and important precautions to keep in mind.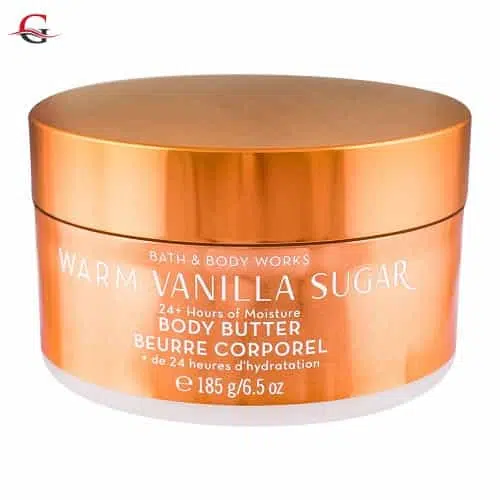 Product Details
Product Name: Bath & Body Works Warm Vanilla Sugar Skin Whitening Butter Cream
Weight: 185g
Price: Rs. 4999.00
Availability: In Stock
Estimated Delivery Time: 6-8 Days
Delivery Area: Nationwide
Country of Origin: United States
Shipped By: Gluta
Fragrance that Captivates
The Warm Vanilla Sugar Skin Whitening Butter Cream boasts a delightful fragrance that combines the sweetness of vanilla with the sparkling allure of sugar and the warmth of creamy sandalwood. This harmonious blend of scents not only nourishes your skin but also tantalizes your senses, making each application a sensorial experience.
Ingredients for Radiant Skin
This body butter is enriched with skin-loving ingredients that work together to promote skin whitening and provide long-lasting hydration. Some key ingredients include:
Vanilla: Known for its soothing properties, vanilla helps calm and rejuvenate the skin.
Sparkling Sugar: Sugar helps exfoliate dead skin cells, promoting a brighter complexion.
Creamy Sandalwood: Sandalwood offers a comforting, aromatic experience and helps maintain skin's moisture balance.
How to Use
Achieving soft, radiant skin with the Warm Vanilla Skin Whitening Butter Cream is easy. Follow these simple steps for the best results: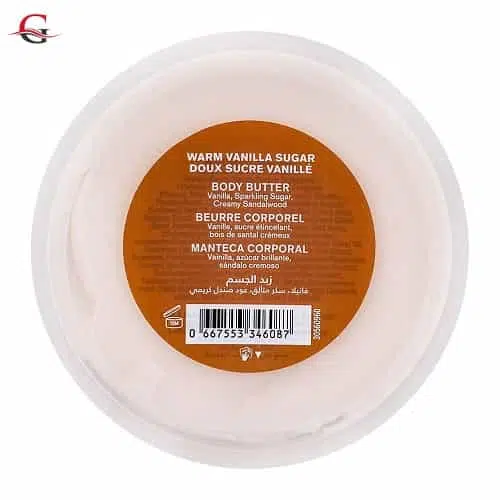 Step 1: Cleanse Your Skin
Start with clean, dry skin. Gently cleanse your body to remove any impurities before applying the butter cream.
Step 2: Apply Generously
Scoop out a generous amount of the butter cream and massage it onto your skin. Pay extra attention to areas that may be dry or in need of skin whitening.
Step 3: Massage In
Massage the cream in circular motions until it is fully absorbed. This will help improve blood circulation and maximize the benefits of the product.
Step 4: Enjoy the Fragrance
Take a moment to enjoy the enchanting Warm Vanilla Sugar fragrance that lingers on your skin.
Precautions
While the Warm Vanilla Skin Whitening Butter Cream is designed to pamper and nourish your skin, it's important to keep a few precautions in mind:
Patch Test
Before applying the product to a larger area of your body, perform a patch test on a small, discreet area to check for any allergic reactions or skin sensitivity.
External Use Only
This body butter is for external use only. Avoid contact with eyes, and in case of eye contact, rinse thoroughly with water.
Discontinue Use if Irritation Occurs
If you experience any irritation, redness, or discomfort, discontinue use immediately and consult a dermatologist.
Store in a Cool Place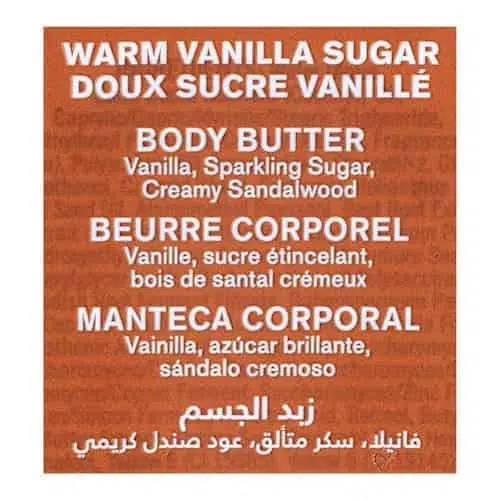 Store the product in a cool, dry place, away from direct sunlight and heat, to maintain its efficacy.
The Bath & Body Works Warm Vanilla Sugar Skin Whitening Butter Cream offers a luxurious and aromatic way to care for your skin. With proper usage and precautions, you can enjoy the benefits of softer, moisturized, and potentially brighter skin. So, indulge yourself in the enchanting world of vanilla, sugar, and sandalwood with this exceptional body butter.